Heading into the home stretch of 2023, conditions in the bulk trucking industry remain lukewarm: not bad, not great for both shippers and carriers. Capacity is fairly stable, but costs aren't budging all that much. In this article, we'll break down what we're seeing out there from a bulk freight 3PL viewpoint.
The current state of bulk trucking
Capacity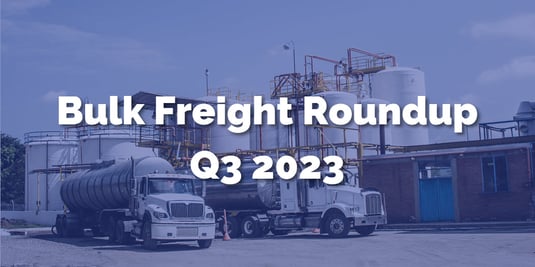 Capacity is obtainable in most lanes in North America. Bulk shippers have had a much easier time finding capacity for both liquid and dry bulk loads in 2023 than in the previous few years. Capacity may tighten a little bit in Q4, but we expect ample capacity in most lanes. As always, advance booking will improve your chances of moving freight on your precise schedule, but we're able to accommodate shorter shipping windows than we were in 2022 and 2021.
Fuel
The cost of fuel continues to impact carrier rates. After falling to below $4.00 per gallon earlier this year, the cost of diesel fuel is now above $4.60 per gallon again. And, according to Reuters, the US will continue to the feel the impact of oil output cuts by Saudi Arabia and Russia through the end of this year.
Increases in fuel prices tend to be especially costly within the bulk freight world. While dry vans can arrive at the loading or unloading sites and turn the engine off while product is on/offloaded, liquid and dry bulk trucking companies must keep the engine running to power the loading and unloading equipment (e.g., vacuums, pumps, air compressors). Bulk trucking companies also must factor in visits to tank wash facilities after unloading. The nearest qualified facility can sometimes be more than a hundred miles away.
Other costs
It's not just fuel that's keeping bulk transportation costs higher than you might expect, given the available capacity. The overall operating costs for trucking companies continue to rise.
The American Transportation Research Institute's (ATRI) 2023 Operational Cost of Trucking report looks at these rising operational costs in detail. The report reveals that "total marginal costs reached a record high in 2022." Specifically:
Driver wages – Up 15.5% in 2022, accounting for $0.724 per mile
Truck/trailer lease or purchase payments – Up 18.6% in 2022, accounting for $0.331 per mile
Repair and maintenance – Up 12% in 2022, accounting for $0.196 per mile
The driver shortage
You'll note that driver wages are up another 15.5% between 2021 and 2022. Between 2020 and 2021, they had increased by 11%. These are significant operational cost increases in back-to-back years. And they speak to the challenges that trucking companies continue to face in attracting, hiring, and retaining drivers.
The trucking industry is still dealing with a driver shortage in which there are more loads than there are drivers to haul them. As such, competition for the services of available drivers remains fierce – and costly.
Within the world of bulk trucking, any easing of the driver shortage is not going to be felt quickly. It's a longer process to become a bulk truck driver. Drivers don't simply go to truck driving school and then get behind the wheel of a liquid tanker or dry bulk truck. Bulk drivers almost always start with dry van transport.
If the driver does well for a few years and has a clean record in the dry van world, he or she may find a bulk carrier willing to provide training for a tanker or dry bulk position. However, due to the higher risks and costs involved (e.g., insurance premiums), most carriers won't take a chance on a new driver until he or she has at least 4 years of flawless dry van driving. And, even then, you're looking at 3-6 months of training until the driver is on his or her own.
Moving your business forward
At Bulk Connection, we remain committed to supporting our customers and carrier partners with the same great service and attention to detail we've provided since 1987. While we don't have a crystal ball to see how the trends described above will play out over the next 3, 6, or 12 months, we will always service your business to the best of our abilities – while helping you take advantage of and adapt to changing market conditions – each and every day.
To learn more about working with Bulk Connection in 2023 and beyond, contact us today.